Head of the Civil Aviation Authority of Vietnam(CAAV) Lai Xuan Thanh has asked Vietnam Airlines (VNA) to implement measures to prevent smuggling and illegal transportation of property and goods.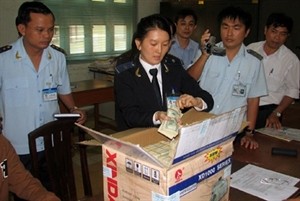 Customs discovered a great amount of money illegally transported at the Tan Son Nhat International Airport (Photo: VNA)
He also demanded more airline security to detect weaknesses people could exploit to transport goods. His request came after Vietnamese air crew members were arrested in the Republic of Korea for smuggling gold.
CAAV held a press conference last week to provide information on the crew members' arrest.
According to local newspapers, a pilot and a flight attendant arrived at the international Gimhae Airport in Pusan on March 10 from Vietnam and were arrested for smuggling six 1kg bars of gold. They tried to pass through customs by hiding the gold bars beneath their shoes.
Captain Nguyen Van Dung and flight attendant Nguyen Tuan Phong were arrested, according to a report by Vietnam Airlines.
The report also said Korean authorities hadn't provided any official information to Vietnamese authorities.
Currently, CAAV is co-ordinating with Vietnam Airlines to keep an eye on the case.-VNA