A campaign for a cleaner world was launched in the southern city of Can Tho on September 20 with the participation of almost 2,000 people.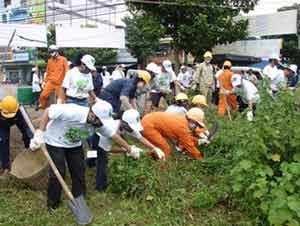 "For a cleaner world" activities in Can Tho Saturday (Photo: Tuoi Tre)
The event was co-sponsored by the Viet Nam General Confederation of Labor, the Ministry of Natural Resources and Environment and the Australian Embassy.
The campaign, themed "Action today, future safety - Let make the air cleaner", called on people to take action for environmental protection against climate change.
Mr. Dang Ngoc Tung, president of the General Confederation of Labor, called for active response from members for "a green, clean and beautiful Viet Nam".
The launch was followed by a parade of 1,400 public employees and workers and 400 bicycles, holding banners on reducing green-house gas emission as a solution to air pollution.
The parade participants planted trees at the Hyundai Auto company park and other enterprises in the Tra Noc industrial zone and cleaned some roads in Can Tho.