The northern province of Quang Ninh authorities and residents have attempted to clean up consequences from a torrential rain triggered flooding for the last couple of days, which has killed 17 locals and left six fishermen missing.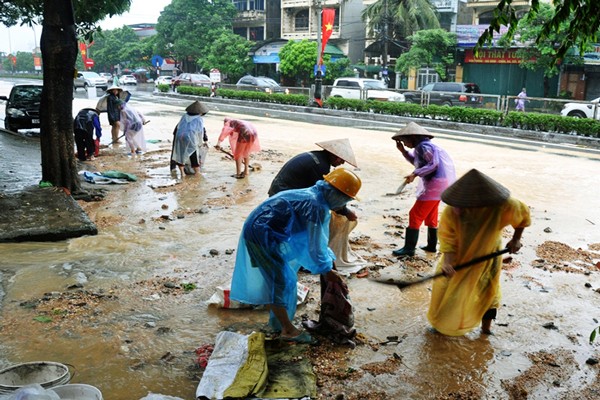 Residents clean up streets in the aftermath of a 40 year record downpour in Quang Ninh province (Photo: SGGP)
The fishermen went missing while their boat was heading toward Co To Island from Bach Long Vy Island. Border military force together with local authorities has been searching for them.
Rain has eased as of Wednesday afternoon but floodwaters still stranded many communities and landslide blocked many road sections.
About 3,700 households, schools and health clinics have been submerged under floodwater which was measured at two meters in some places, reported local authorities
Highway 18A was cut off into nine flooded sections while landslide has impeded traffic in Road 328 north of Ha Long city.
Cam Pha city alone saw 2,000 inundated households, mud waste from a burst dumping ground overflowed into 40 houses in Mong Duong ward. Property damage in the city has totaled VND100 billion. Losses have topped VND1 trillion (US$45.83 million) in the province of Quang Ninh.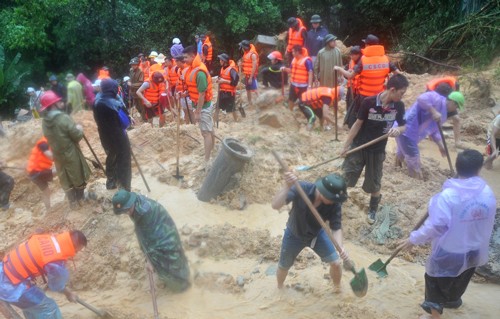 Rescuers search for missing people (Photo: SGGP)
1,500 tourists stranded in Co To Island have been unable to leave for the mainland.
Traffic between Cam Pha city and Van Don island district has been unconnected due to worse landslide in Van Don 2 Bridge.
Thousands of local people, military force and militia have evacuated residents and their belongings to high grounds, cleaned up mud from their houses so that they can soon return home.
The province People's Committee has mobilized all human resources to clear some landslide spots and fortify reservoir embankments.
Committee chairman Nguyen Duc Long said that broken water pipe system of Dien Vong plant has disrupted supply to tens of thousands of residents in Ha Long and Cam Pha.
He instructed Quang Ninh Fresh Water Company to pump and soak mud out to determine and repair broken spots or install new pipelines to prevent disease outbreak from occurring because of polluted water.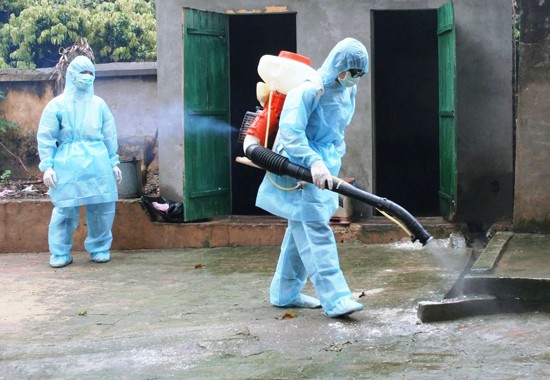 Workers spray antiseptic to prevent diseases (Photo: SGGP)
Mr. Hoang Duc Cuong, director of the National Hydro Meteorological Forecasting Center, said that the record downpour in Quang Ninh province was an uncommon phenomenon at a meeting yesterday.
Heavy rains would continue pelting the northeastern part in the next few days with rainfall averaging 100-200m and reaching 300-400mm in some areas.
 
The low pressure trough, which has caused the downpour in Quang Ninh and other northern provinces for the last couple of days, will weaken from July 31-August 4 and move further towards the mainland to render more rainfall in the Red River Delta and northern midlands and mountainous, he said.

Related articles:
30 dead, missing in Quang Ninh downpour
Three killed in Quang Ninh 40 year record downpour