Deputy Prime Minister Hoang Trung Hai on Thursday asked all concerned departments to tackle obstacles slowing the pace in site clearance tasks and affording compensation to households who are still impeding the progress of the Ho Chi Minh City-Long Thanh-Dau Giay Highway Project.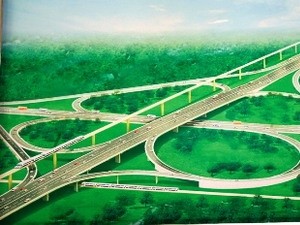 An artist's impression of HCMC-Long Thanh-Dau Giay Highway (Photo: Chinhphu.vn)
Mr. Hai was speaking while he and leaders of Dong Nai Province were inspecting the project's progress in Long Thanh District in the province.
According to the project management board, the highway progress has met with difficulties as some households in the area still refuse to evacuate the site.
Mr. Hai proposed that the management board of the highway project along with Dong Nai Province authorities resolve with site clearance and compensation problems at the earliest, so as to hand over the still held-up area to execution units.
At present, 21 out of 22 kilometers of the project's area in Long Thanh District has been cleared and handed over.
HCMC-Long Thanh-Dau Giay Highway cuts through Districts 2 and 9 in HCMC and Long Thanh, Nhon Trach, Thong Nhat and Cam My Districts in Dong Nai Province.
The estimated capital cost of the project will fall to more than US$930 million, and expected to complete and open to traffic by the end of next year.