Despite heavy police presence in Bau Sen Hamlet of Phuc Trach Commune in Bo Trach District of Quang Binh Province, some people still successfully transported out Sua timber from the forest, worth VND10 billion (US$476,000), according to a Sai Gon Giai Phong Newspaper source.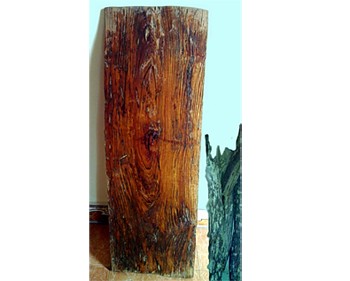 This Sua trunk is worth billions of dong (Photo: Tuoi Tre)
They transported the Sua timber from the forest using ropes to cross a gorge, successfully avoiding authorities present in the forest, who were conducting an intensive raid of the area to crack down on illegal lumberjacks and underworld gangs.
Nguyen Van Hien, secretary of the People's Committee of Phuc Trach Commune, said that they were not authorised to search private residences for the timber. This came under the jurisdiction of forest management forces and the People's Committee of Bo Trach District.
The sudden unprecedented rush to acquire Sua timber has led people to safeguard their own house furniture made of Sua timber from unscrupulous thieves.
The Department of Health in Quang Binh Province has tasked security personnel to protect a furniture set made of Sua wood, which was purchased for VND100 million ($4,700) but is now valued at VND5 billion ($238,000).
Another furniture set made of Sua timber exists at the office of the chairman of the People's Committee in Minh Hoa District, which is guarded round-the-clock, after some people offered to buy it for an exorbitant sum.
According to the Department of Forest Management in Quang Binh Province, from Saturday night until early dawn on Sunday, a 200 strong crowd stood surrounding the Khe Sen and Hung Lam areas, bordering Phong Nha-Ke Bang National Park, just for a chance to enter the forest and rob some Sua timber.
Related articles:
Quang Binh conducts massive raid in National Park, targets lumberjacks
Lumberjacks have cut more than three Sua trees: Police
Police investigate cutting of Sua trees in Quang Binh Province