Climate change is posing imminent threat to Viet Nam's progress in human development, according to the United Nations Development Program (UNDP).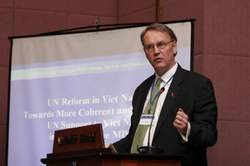 UN Resident Coordinator in Viet Nam John Hendra
The announcement was made at the launch of the UNDP Human Development Report 2007/2008 in Ha Noi on Wednesday, prior to a high-ranking UN conference on climate change scheduled for December 3 to 14 in Bali (Indonesia).

Viet Nam has risen four places to end up at 105 among 177 countries in the UNDP's Human Development Index (HDI).

This year's report, called "Fighting climate change: Human solidarity in a divided world", spent more than a half of its pages (390) on climate change.

"Over the past 15 years," reads the report, "Viet Nam has made spectacular progress in human development. Poverty levels have fallen and social indicators have improved, putting the country ahead of schedule on almost all of the Millennium Development Goals. Climate change poses a real and imminent danger to these achievements – and nowhere more so than in the Mekong Delta."

UN Resident Coordinator in Viet Nam John Hendra said the UNDP report will be an important reference for Vietnamese policy makers in integrating climate change adaptation and mitigation strategies into the overall socio-economic plan on national strategy.

This year's report warned that poor people in developing countries will be those most vulnerable to the impacts of climate change.

A study by Viet Nam Institute of Hydro-meteorology and Environment says that Viet Nam is now already suffering from climate change with the annual average temperature increasing about 0.1 degrees centigrade per decade.

The institute says heavy rainfall now hits the country more frequently in some areas, causing more severe floods, while in almost all other areas rainfall has declined creating drought conditions.

Climate change has negative impacts on nearly all sectors of Viet Nam's economy, from agriculture, forestry, aquaculture as well as hydro-electricity power, oil and gas production and sea transport.

"It is a very important message for the Vietnamese government, as they are rapidly moving in economic growth, to focus on adaptation and mitigation on a broader environmental side but also particularly the impacts of climate change," Hendra said.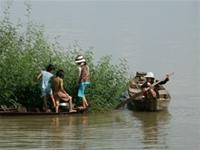 The Mekong Delta is prone to floods due to climate change
Meanwhile, UNDP Senior Adviser Koos Neefjes said UN agencies will continue their support to increasing institutional capacity building, improving community-level practical support in disaster mitigation, energy efficiency and limiting greenhouse gases in agriculture.

Neefjes also suggested Viet Nam reconsider its future energy mix and reduce the nation's reliance on fossil fuels, increase high-efficiency and low-impact, green technologies and improve the level of forest cover.

The UNDP report says of the Mekong Delta: "Climate change poses threats at several levels. Rainfall is predicted to increase and the country will face more intensive tropical storms. Sea levels are expected to rise by 33 cm by 2050 and 1 meter by 2100".

"There are still 4 million people living in poverty in the Delta. Many of these people lack basic health protection and school drop-out rates for their children are high. For this group, even a small decline in income or loss of employment opportunities linked to flooding would have adverse consequences for nutrition, health and education. The poor face a double risk. They are far more likely to live in areas vulnerable to flooding, and they are less likely to live in more robust permanent homes".

Previously, UNDP Country Director Setsuko Yamazaki had pledged to help Viet Nam cope with natural disasters and issues caused by climate change at a national seminar on climate change and calamity prevention and mitigation in Ha Noi on November 22.

The UNDP provided aid for Viet Nam to overcome the aftermath of storms and consecutive rounds of floods that occurred in the country's central region in October.