The Department of Hydrometeorology (under the Vietnam Ministry of Natural Resources and Environment) has recently held a workshop to report the results of the project called "Surveying and evaluating the agricultural climatic conditions to serve the resettlements of the Son La hydroelectric project in the two regions of Sipaphin and Muong Nhe, Dien Bien Province".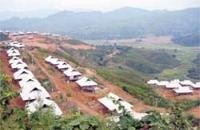 The Son La resettlement areas
These are the two big resettling zones established after the removal of inhabitants living in the Da River basin, Dien Bien Province.

The department has identified the scientific basis of agricultural climate and hydrography for the detailed planning and the selection of suitable plants and animals for these two zones.

The project has also established the calculating diagrams on water demand and water balance with convenient calculations which help to properly exploit the natural resources and at the same time reduce the damages for effective production and the settling-down of inhabitants of the two said zones.