Vietnamese and Chinese businessmen attending an investment and economic cooperation forum in China on Wednesday signed contracts totaling US$1.2 billion, including $800 million in shipbuilding deals.
Some 450 Vietnamese and Chinese enterprises were represented at the event in Guangxi province.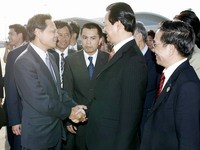 PM Nguyen Tan Dung (C)meets with a Guangxi official
Addressing the forum, Vietnamese Prime Minister Nguyen Tan Dung spoke highly of the comprehensive cooperation with China, especially bilateral economic and trade cooperation.
He suggested that Guangxi work closely with Viet Nam's border provinces in executing the "Two Corridors, One Economic Ring" project, and showed his appreciation of Guangxi's efforts in building and upgrading roads and railways for the project.
The PM proposed Guangxi cooperate with the Vietnamese border provinces to hasten the installation of border landmarks, so that by 2008 the two countries could complete the settlement of their boundaries, as the leaders of the two nations had previously agreed.
Viet Nam is now Guangxi's largest trading partner, with two-way trade amounting to US$937 million, up by a hefty 31% on the previous year.
The organizers of the forum were Viet Nam's Ministry of Planning and Investment, China's trade promotion committee, and officials from the Guangxi Zhuang Autonomous Region.
The Vietnamese PM returned to Ha Noi on Wednesday.