100 bus passengers escaped unscathed in a freak accident between three passenger buses in Lien Chieu District in the central city of Da Nang yesterday morning.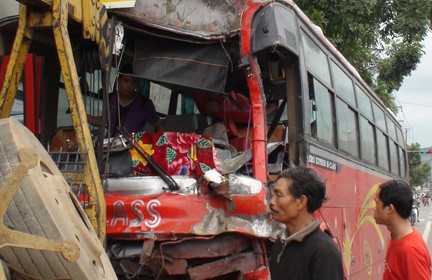 The smashed front of the bus from Quang Tri after the crash in Da Nang city (Photo: Tuoi Tre)
According to eye witness accounts, Le Quang Hung was driving bus 74K-4290 from Quang Tri Province on Ton Duc Thang Street and suddenly crashed into the rear of another bus 53S-3521, driven by Le Quang Tao from Quang Ngai Province.
Le Quang Hung however continued to drive his bus in an effort to control it but rammed into the rear of yet another bus 98K-4346 coming from Bac Giang Province.
The impact of the accident crushed the entire front of bus 74K-4290 and driver Le Quang Hung suffered from two broken legs. The rear of bus 53S-3521 was also badly dented.
The accident created a traffic gridlock for over three hours on Ton Duc Thang Street which serves as an entry point to the city of Da Nang.
Fortunately and with God's grace, all 100 passengers on the three buses survived unscathed with no serious injuries.
The cause of the accident is so far being identified as speeding on the part of driver Le Quang Hung on bus 74K-4920.