This is an important bridge helping shorten travel time between provinces of Kien Giang, An Giang ... with Ho Chi Minh City.
After completion process, Vam Cong Bridge will be connected traffic to Lo Te – Rach Soi (Kien Giang province) and linked from National Highway No.91 (Can Tho City) to Long Xuyen City (An Giang province).
In addition, it is one of the two big cable-stayed bridges located in the routes of My An (Dong Thap province) – Rach Soi (Kien Giang province), belonged to project of connecting the heart of Mekong Delta and project of the North-South Express way in the west- southern region.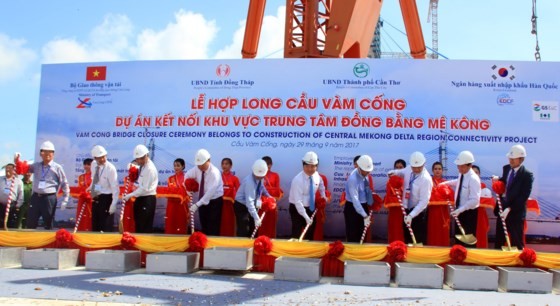 Closure ceremony of Vam Cong Bridge
Vam Cong Bridge has been begun construction since September, 2013. The construction was designed a length of 2.97 kilometers, four lanes for four-wheel vehicles and two lanes for non-motorized vehicles.
Total investment capital costs nearly US$ 271 million from Official Development Assistance (ODA) of South Korean government and reciprocal capital of Vietnamese government.
The main section of Vam Cong Bridge has been reached 97 percent as expectation so far, and it is expected to be finished on November 26.
The process of the approaching path to Vam Cong Bridge has been neared 82 percent and it is expected to be finish on December 31.
Tags: