In a tragic accident at 10.15pm on Thursday, a coach travelling from Dak Lak Province to Ho Chi Minh City suddenly crashed into the railing of Srepok Bridge on Highway 14 and fell into the river, killing 34 people and injuring 20 others.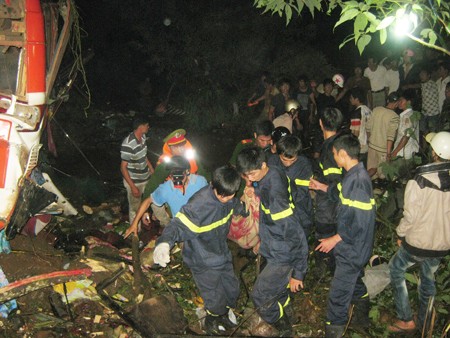 Rescue workers and local residents help pull out victims from inside the coach that fell in the Srepok River in Dak Lak Province (Photo: SGGP)
According to initial information, the coach 47V-2371 coming from the central highland province of Dak Lak and plying on the Dak Lak-HCMC route suddenly swerved on the Srepok Bridge and crashed through its railings, dropping straight in to the Srepok River.
Hundreds of local residents and rescue workers helped to take out the victims trapped inside the bus, which was totally smashed making it more difficult to remove the bodies from the inside. The pitch dark night made rescue operations even tougher.
Local residents and rescuers had to use crowbars and hammers to pound at the coach doors and windows, and break through the glass to pull out victims.
Two cranes were mobilised to lift the coach back onto the bridge, which is 20 metres above river level.
By 0.20am on Friday a bigger crane was able to lift the coach up and several victims' bodies were then taken out. The last three victims were pulled out by 2.20am and two hours later the crane then pulled the coach onto the bridge.
The injured include four children all of who were rushed to the Dak Lak General Hospital. Two died while receiving emergency aid and most of the remaining are suffering from serious injuries.