Landslides are threatening coastal residents in Hue, but not enough is being done by district and provincial authorities to tackle the problem.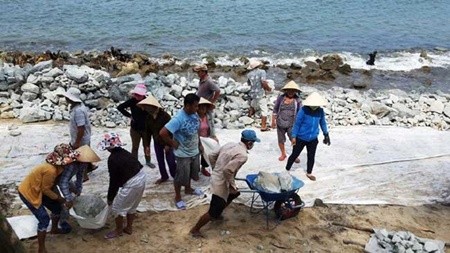 Local residents reinforce a stone embankment in Hai Duong Commune in Thua Thien Hue Province. — VNA/VNS Photo Quoc Viet
Le Ngoc Hanh, a resident of An Loc village in Quang Dien District's Quang Cong Commune, said that fifty households in his village would disappear if the land kept eroding at the same rate.
He said that 10 metres of the coast had been worn away along a 1km stretch since last month.
Nguyen Dinh, chairman of Quang Cong Commune People's Committee, said landslides also threatened hundreds of households in other villages in the district, including Tan Thanh and Hai Thanh.
Coastal erosion had also challenged the local fisheries sector because canals were filling up making it difficult for fishing boats to navigate, he said
He added that authorities in his commune had not come up with any solutions to prevent the landslides.
District and provincial authorities needed short-term and long-term solutions to prevent coastal landslides and help the commune to evacuate endangered households, he said.
He explained that many households were unable to move to resettlement areas because they could not afford new houses with the money provided by authorities.
Nguyen Van Chuong, chairman of Phu Thuan Commune People's Committee, said the commune had planted trees and built stone embankments to cope with erosion.
However, these methods had proven useless and the commune needed help from district and provincial authorities, he said.
However, Tran Duc Duy, deputy director of Thua Thien Hue's Dyke Management and Flood Control Department, said that building dykes or embankments to prevent landslides was complicated.
The construction would require a large budget and research on natural elements including water, sea currents and wind, he said.
According to Thua Thien Hue's Dyke Management and Flood Control Department, 30km of coastline in the province had already eroded.
Authorities have investing a plan to evacuate over 1,000 households to resettlement areas, pending assistance from the central Government.
Recently, Hai Duong Commune in Huong Tra District completed the construction of a 730m dyke which cost local authorities VND49 billion (US$2.3 million).
The dyke was completed before the stormy season to ensure the safety of local residents and property as well as local socio-economic development.