Residents living along the sea dykes in the coastal village of Hai Tien in Phu Vang District of Thua Thien-Hue Province currently have to brave extreme conditions due to high tide and storm threats.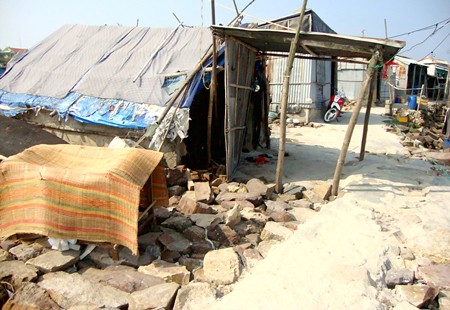 Nearly 100 households living on dykes live in fear of being swept away. (Photo:SGGP)
Almost 100 households are living along the dykes now, constantly exposed to harsh weather conditions.
Their lives are threatened by high tides and storm threats.
Tran Thi Diep is married and lives in the village for the last ten years. Her husband is very poor and cannot afford to buy any land, so she and her husband have built a small house on the dyke.
Diep said that she always lives in constant fear of losing her little house. When it rains heavily, her belongings in the house are swept away, she said.
Tran Thi Som, 68, lives alone in a small house on the dyke. She hopes and prays that she can move to a safer place someday soon.
Besides fearing the rage of the sea and the weather, nearly 100 households also worry about lack of fresh water, no toilet facilities and spread of disease.
Local authorities have plans to relocate poorer households living along the dykes, but the plan is still on paper until now.
Talking to a Sai Gon Giai Phong reporter, Nguyen Xuan Hai, chairman of the People's Committee of Thuan An District said that the district has no funds or land to relocate households living along the dykes. However, local authorities are trying to resolve this serious problem.