Coca-Cola will double its investment in Vietnam by adding 200 million USD in the next three years, said the company's head.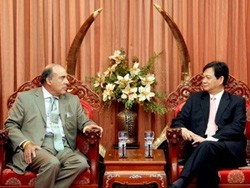 Prime Minister Nguyen Tan Dung meets Coca-Cola International Chairman of the Board and CEO Muhtar Kent in HCMC on September 4 (Photo: VNA)
Coca-Cola International Chairman of the Board and CEO Muhtar Kent revealed the plan at a meeting with Prime Minister Nguyen Tan Dung in Ho Chi Minh City on September 4.
The Coca-Cola leader congratulated Vietnam on its socio-economic achievements despite the on-going global economic crisis. He said that Vietnam, with its great potential, is expected to be one of Coca-Cola's large markets in future.
According to Kent, over the past 15 years, his company has invested 200 million USD in building three factories in Vietnam, providing jobs for 1,500 local laborers.
For his part, PM Dung highly valued Coca-Cola's business operations as well as its social welfare and environmental protection programmes in Vietnam over the past time.
He said he was pleased with Coca-Cola's plan to double investment in Vietnam and affirmed that the government will continue creating favorable conditions for US enterprises, including Coca-Cola, to do business in the country.
While appreciating bilateral trade relations, the PM expressed the wish that the US government will soon grant the Generalised System of Preferences (GSP) to Vietnam.
He said he hoped that Muhtar Kent, who is also President of the US-ASEAN Business Advisory Council, will provide support to step up the US's consideration of granting the GSP, ensuring that trade relations between the US and Vietnam will be on a par with how the US treats other ASEAN countries and other countries treat Vietnam.