Animals have died and children, elderly people and holidaymakers have been hospitalized some days when the North Vietnam is shivering with coldest spell.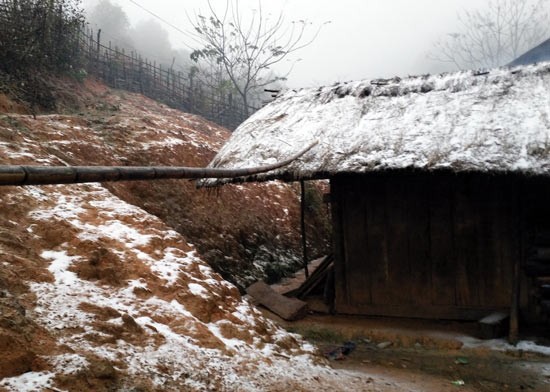 Snow covers house roofs and roads in the northern provinces
Thousands of students in the northern provinces of Lao Cai, Cao Bang, Lang Son, Ha Giang and Yen Bai were kept at homes when the temperature plunged.

Meantime, big hospitals in Hanoi such as the National Children Hospital, Bach Mai, Thanh Nhan and hospital for old people have been overloaded that medical workers were run off their feet.
Most patients suffer high fever, pneumonia, respiratory inflammation or lung infection and inflammation along with increase of cases of chronic diseases including asthma, high blood pressure, and rheumatism.

Meantime, the number of animals dying of the extremely frigid weather conditions increased gradually. People's Committee in the northern province of Quang Ninh's Binh Lieu District announced 428 cattle died because of snow in highland communes namely Dong Tam,  Vo Ngai and Dong Van. 
Dang Ba Bac, chairman of People's Committee said that the local government has urgently purchased thousands of meter of clothes to provide residents for covering cowsheds. In addition to Binh Lieu District, cattle in Che, Uong Bi districts froze to death and hundreds of vegetables were destroyed in the harsh weather.

Temperature in the northern mountainous provinces reduced to 1 Celcius degree. Accordingly, cattle and vegetables are destroyed all. Elsewhere in the country, the Northern Province of Lao Cai has 200 died cattle as per the Department of Agriculture and Rural Development's report.
Snow covered all streets, house roofs and 105 hectares of veggies and 70 hectares of ornamental plants in Sa Pa town, a famous tourist destination of Lao Cai Province. Yen Bai Province has 36 died buffaloes and goats and Lai Chau Province and Son La Province authorities with 89 died cattle respectively.

As the severe weather will last until end of January, the Cultivation Department under the Ministry of Agriculture and Rural development, urged local governments to control seeding to avoid loss.