The current cold spell affecting the northern and central regions has reduced rice production, increased the number of cattle and fish dying, made heating a home much more expensive. In some residences, hot charcoal fires have accidentally burned children.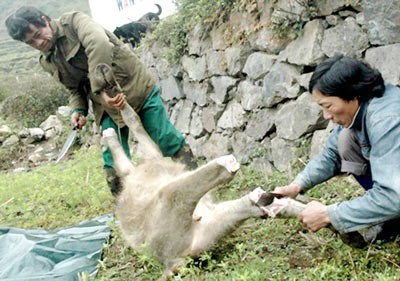 Farmers slaughter a buffalo that has frozen to dead due to the cold weather in Cao Bang Province (Photo: SGGP)
As of yesterday, the number of cattle dying from the cold weather has jumped to over 10,000 in some areas.
In addition, because of the cold weather fish in many ponds and rivers have died in the mountainous provinces of Lang Son, Lao Cai, Cao Bang and Son La.
Dinh Van Ha, owner of a fish farm in Lang Son Province said that although he had released more water-fern and placed nylon heating around the pond, the fish still died.
Over the last two days, he has removed over 1,000 dead fish from his ponds. Furthermore, several households in the area have also been affected with 80-90 percent of their fish dying.
Meanwhile, the icy conditions have caused a standstill for rice farming, said Nguyen Tri Ngoc head of the Cultivation Department. Some local authorities have recommended farmers to temporarily halt cultivating their winter-spring rice crops.
The cold weather has also threatened young rubber trees in the northwestern provinces of Son La, Lai Chau and Dien Bien.
Phan Huy Thong, deputy head of the Cultivation Department said farmers should cover their rice fields with nylon protection because this can stop the rice from being damage due to the cold. In addition, farmers will need to re-cultivate their rice crops after the cold spell has gone.
In related news, the cold snap has rocketed the cost for warm winter clothing. At markets in the town of Dong Ha in Quang Tri Province and Hue City, prices for the winter clothing has move up by over 20-30 percent, as compared to last year.
Meanwhile, in central rural areas, local residents have kept warm by burning charcoal fires. This has caused a shortage of the material resulting in a price hike of up to VND15,000 from only VND10,000 a kilogram as normal.
Moreover, according to Nguyen Ngoc Tuan from the National Institute of Burns, the institute this year has received five cases that children have been accidentally burnt by charcoal fires.
Mr.Tuan said residents should not keep children warm by burning charcoal fires, as it may cause CO2 poisoning and raise the chance of being burnt.