The ongoing cold wave in the north accompanied with wet weather is showing no signs of letting up, causing a severe overload in hospitals from the mountainous provinces to the bigger cities.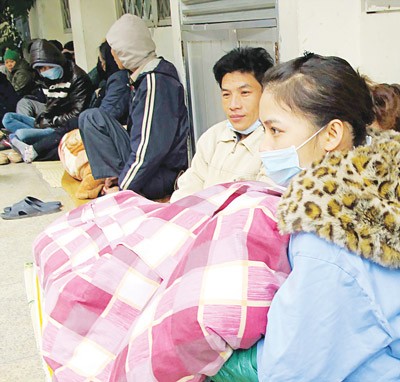 Patients wait with relatives in a corridor in Bach Mai Hospital in Hanoi (Photo: SGGP)
Can Phu Nhuan, head of the emergency department in the National Hospital of Pediatrics in Hanoi, said that they have faced overloading for the last ten days with nearly 3,000 children coming for health checks and treatment every day, an increase of 30 percent above normal.
Of these, one third of the children are suffering from acute respiratory syndrome due to the cold. The Respiratory Ward is treating nearly 200 patients with pneumonia and each bed is accommodating two-three children.
Other hospitals in Hanoi like Saint Paul, Bach Mai and Thanh Nhan are also crowded with patients, most children and elderly.
The National Institute of Gerontology has seen up to 200 patients a day. The number of elderly hospitalized has increased three to fourfold. The numbers of old people with cerebral vascular accidents and pneumonia have hiked by more than 30 percent.
Huddled in a blanket at the end of a corridor in Bach Mai Hospital, Bui Minh Tu from Hoa Binh Province is tending to his ill father. He said that it is too hard for relatives to take patients to a hospital in this chilly weather. They have to bring along heavy woolens and blankets. Some nights they cannot sleep because of the biting cold.
Hospitals in Lao Cai, Lai Chau, Cao Bang and Lang Son, Quang Ninh and Hai Phong City are also facing the same condition. Two to three patients have to share the same bad while corridors, staircases and hallways are crowded with patients' relatives--all braving the freezing cold.
Large hospitals in Hanoi have equipped electric and water heaters but other hospitals in mountainous areas are unable to provide patients with more blankets, electric lights or coal heaters.
Nguyen Ngoc Tuan, deputy director of Vietnam National Institute of Burns, said that they have received 40 children who were scalded with boiling water, burning coal or heaters.
Related article:
Chilly weather upturns life in northern region