The Asia Injury Prevention Foundation has unveiled a new mascot for its Child Helmet Public Awareness Campaign - the comic character "Little Sheriff."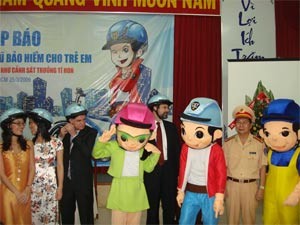 "Little Sheriff" Bim (red jacket) and two friends Lily and Tun pose with officials of Asia Injury Prevention Foundation at a March 25 press conference (Photo: Truong Son)
Bim will appeal to adults to put helmets on children's heads to reduce traffic injuries and deaths under a campaign launched February in partnership with the National Traffic Safety Committee and the Vietnam Helmet Wearing Coalition. 
The campaign has begun to distribute 15,000 booklets, posters, and flyers to students in primary schools in nine provinces with support from the Ministry of Education and Training.  
Little Sheriff Billboards also are displayed both inside and outside schools nationwide to attract the attentions of parents. 
Addressing the media, Dr. Truong Van Viet, former director of Cho Ray hospital, said: "Parents need to understand that the chance of neck injury due to complications caused by helmet use is negligible compared to the known benefits of helmet use."  
Asked about the possibility of neck injury, Dr. Viet said: "There is no published data to support the conclusion that wearing properly designed and certified helmets will damage a child's neck. Child helmets that meet TCVN 2:2008 standards are extremely lightweight and provide essential protection to a child's brain in case of injury. All children on motorbikes over the age of 6 months, as soon as they can hold their heads upright, should wear helmets. This is an international practice, not limited to Vietnam."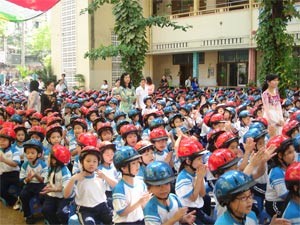 Tran Hung Dao School pupils receive helmets from AIP Foundation after the press conference (Photo: Truong Son)
Following the press conference at Tran Hung Dao Primary School in Ho Chi Minh City's District 5, where it unveiled the mascot March 25, the AIP Foundation distributed 1,650 helmets to students and teachers. 
The foundation has also established a Little Sheriff hotline at (+848) 6299 1409 for children to call with helmet-related questions and share their experiences in using helmets.  
More than 10,000 helmets with the Little Sheriff image will be distributed to primary schools in the nine provinces where the program is being carried out by April.