A solemn event was held yesterday in Hoc Mon district, HCM City, to commemorate the 68th anniversary of the "Southern Uprising" (November 23).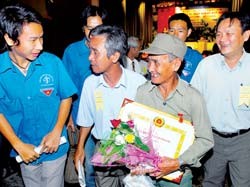 Participants in the meeting in Hoc Mon district to mark the 68th anniversary of "Southern Uprising" (Photo: SGGP)
The meeting was attended by heroine mothers, decorated soldiers, war veterans and families of martyrs. Also present at the event were former prime minister Phan Van Khai, former city party committee secretary Vo Tran Chi, permanent deputy secretary of the city Party Committee Nguyen Van Dua, city People's Committee deputy chairwoman Nguyen Thi Hong, and city Fatherland Front Committee chairman Tran Thanh Long.
Hoc Mon district party secretary Nguyen Van Hoa reviewed the patriotic tradition and the revolutionary heroism of the people of 18 betel-growing hamlets in the Hoc Mon – Ba Diem area, with their active participation in the uprising against French colonialists 68 years ago.
Over the past several years, the district's party, government and people have made great efforts in social economic development. As a result, the district has gained an annual economic growth rate of 21 percent and have boosted agricultural output to VND70 million per hectare.
On the occasion, the Standing Board of the city's Party Committee conferred "Party Seniority Badge" on senior revolutionary veterans who have been party members for 30 to 70 years.