On November 12, the National Traffic Safety Committee launched an intensive communication campaign to raise awareness on traffic safety along three road routes, namely, Hanoi-Vinh; Ho Chi Minh City-Can Tho; and Ho Chi Minh City-Vung Tau.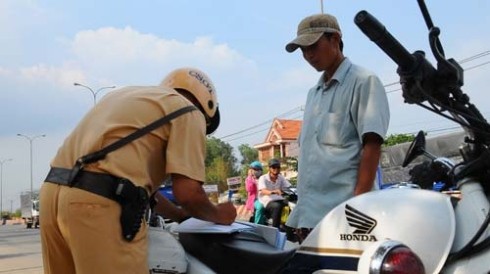 A police officer accosts a traffic offender in Binh Tan District in, HCMC (Photo:Tuoitre)
This year, road accidents have claimed the lives of an average 25 people per day, a 17 percent reduction from previous years. In the first nine months of the year, 23,200 traffic accidents were reported across the country, resulting in 6,657 deaths and 2,681 injuries, according to statistics from the National Traffic Safety Committee.
Victims families and the country have to bear the financial burden of thousands of billions of dongs to cure injuries caused by traffic accidents, threatening economic growth and destroying the image of Vietnam in the eyes of foreign visitors.
Implementing many countermeasures to combat traffic accidents and reduce deaths and injuries, the government, organizations, individuals and all related sectors should join hands to help curb recklessness and violations on roads.
The communication campaign aims to reduce 10 percent of the number of accidents occurring as well as the number of victims. It is first being introduced in 12 provinces with focus on educating drivers not to jump traffic red lights, drive after drinking, speeding, driving in wrong lanes, overloading, or not wearing helmets on motorbikes.
For the very first time, the campaign is being launched in South East Asia and Vietnam.  It will be broadcast via television, media, newspapers, posters, public exhibitions, and leaflets.
At a ceremony to launch the campaign, a minute's silence was observed in sympathy for families of victims. This reminded people of the serious consequences that traffic accidents can cause, thus raising public awareness and better observance of traffic laws.
Traffic police across the country have begun to apply stricter penalties on traffic violators as of November 10, according to Decree 71 issued by the Government.
Compared to previous rates under Decree 34, the new penalties are much higher and intended to deter traffic violators. For instance, a fine of VND500,000-1 million (US$48) is applicable on drunken drivers of motorbikes if alcohol levels are 0.25 mg on the breath or 50 mg in the bloodstream. Earlier, the fines were a paltry VND200,000-400,000.