The Department of HIV/AIDS Prevention and Control, under the Ministry of Health, will pilot a community-based HIV testing and counselling programme for people without access to health services.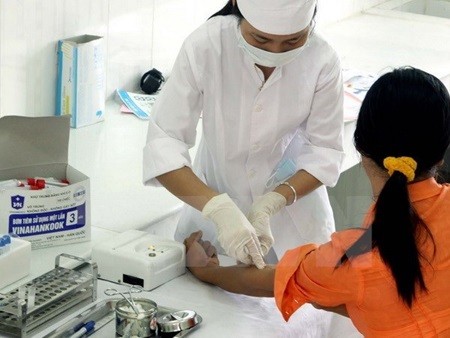 A health worker at Ninh Binh Province's HIV/AIDS Prevention and Control Centre takes blood samples from a woman. — VNA/VNS Photo Duong Ngoc
The programme will be first implemented in Ha Noi, HCM City and provinces of Dien Bien, and Nghe An and Thanh Hoa from the fourth quarter of this year to the end of the third quarter of 2017.
The department said it would publish guidelines for proper HIV testing and provide training to non-specialised health workers, and also adopt a mechanism for co-ordination between community-based organisations and clinics that perform HIV tests and those offering anti-retroviral (ARV) treatment.
A system for monitoring and evaluating community-based HIV testing results will also be launched.
There are three community-based HIV testing models including mobile HIV testing and counselling, HIV testing and counselling at local health care units, and community-based organisations.
These testing models will be applied to groups of people who are drug addicts, relatives of HIV carriers (wife, husband and their children), sex workers, and gays and lesbians, in addition to men at places that have high rate of HIV sufferers (over 1 per cent).
Statistics from the Department of HIV/AIDS Prevention and Control showed that as of June, there were 227,114 people living with HIV in Viet Nam. Of these, 71,115 HIV carriers had progressed to AIDS and 76,588 people had died.
The country has over 1,100 HIV testing and counselling units and 98 HIV testing laboratories that conduct tests of around 2 million samples each year.
It is estimated that about 200,000 people living with HIV are aware of their status while the remaining are unaware, thereby posing high risk of HIV transmission in society.
The community-based HIV testing and counselling programme takes place at a time when the funding for HIV prevention is to be reduced and traditional HIV test models have met with difficulties.
Health officials said at a workshop held in Ha Noi last month that Viet Nam will need at least VND7.4 trillion (US$329 million) for the programme from 2016 to 2020, but it will lack about 11 per cent of the capital. Because the HIV prevention programme will not be a national target programme it will suffer a big reduction in budget allocation.
About 80 per cent of funding for HIV response in Viet Nam comes from external donors but the funding will be gradually decreased because Viet Nam has now been classed as a middle-income country.