A survey by the Navigos group, a leading executive recruitment company in Vietnam, has found that companies are hiking salaries and improving their working environment to retain talent and high performers for long durations.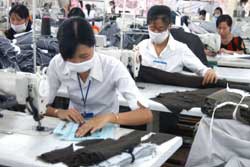 Workers of Meko Garment Joint Stock Co in Can Tho. (Photo:VNA)
The survey was conducted on 116 companies in Vietnam and 81 percent of these companies considered increasing wages of staff as an incentive.
Companies increased salaries based on work efficiency of each individual, especially of senior managers.
Nguyen Thi Van Anh, managing director of Navigos Group, said that recruiting talent is in itself difficult, but to retain talent for long durations or imbibe company loyalty is even more difficult. This remains a grave concern for managers.
The pay scale in industries has widened due to the need for specialized talent. The survey covered wide areas of industry like manufacturing, financial services, technology, pharmaceuticals, fast moving consumer goods (FMCG), trading, chemicals, petrochemicals, oil and gas.
Training and development of human resources is the key reason for increasing budgets, followed by introduction of new benefit policies.
Van Anh believed that training programs and short and long term reward benefits were great incentives to holding on to high performers and building next generation leadership candidates.