Police officials under the Ministry of Public Security yesterday collected samples of untreated wastewater from the Sonadezi Company in Long Thanh Industrial Zone in the southern province of Dong Nai.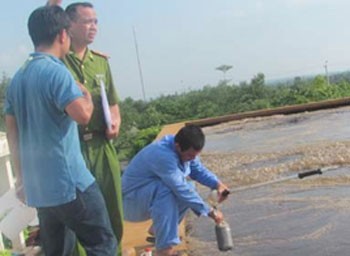 Police official collects samples of wastewater from the Sonadezi Company reservoir (Photo: Tuoi Tre)
A police official said that water samples taken from the reservoir of the company's wastewater treatment plant and sluice gates had the same color and foul smell as that flowing into the Dong Nai River.
The police officials are also working at collecting more evidence of violations by the company and determine those responsible. The Company's wastewater treatment system was also found to be out of order.
 
Officials caught the company workers red-handed on August 3, while releasing untreated wastewater into the Ba Cheo Canal which flows into the Dong Nai River.
The wastewater is normally released during heavy rains, low tide or at night via underground pipes connected to the reservoir.