Around 1,348 households, offices and units have been badly affected by the devastating blast at a firecracker factory in the northern province of Phu Tho and will be compensated for the losses incurred.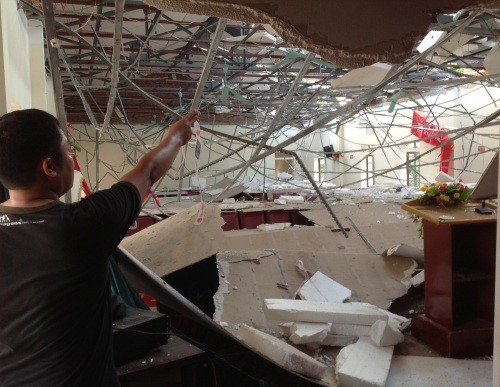 The commune cultural house badly damaged after the explosion (Photo: Nguoi lao dong)
The explosion in the firecracker factory Z121, caused widespread damage in Khai Xuan, Vo Lao, and Dong Thanh Communes in Dong Ba District, completely destroying six houses and causing huge damage to 877 houses and offices with large wall cracks and loss of roofs.
Around 471 households suffered slightly less damage, informed Ha Ke San, Vice Chairman of the People's Committee of Phu Tho Province, though a survey is still underway and will complete before October 19.
The General Department of Military Command under the Ministry of Defense and leaders of the Z121 firecracker factory are planning to provide adequate compensation to people who have incurred losses.
The General Department of Military Command will repair households with minor damages and supply large sheets of plastic as temporary roofing, besides also providing financial support to affected households to rebuild their lives.
The Ministryof Defence, the General Department of Military Command, the firecracker factory and many other organizations across the country gave away more than VND110 million to the families of dead people and VND35 million to the injured workers.

Related articles:
Explosion at firecracker factory leaves 20 dead, 80 injured

Four more casualties reported in firecracker factory explosion