A nationwide search has been launched to find a new generation of Eco-Entrepreneurs to serve Vietnam's fight against climate change and global warming.
An E-idea competition offering six cash awards will be held in the country.  The six awards are worth a total of VND720million (US$36,000), while VND100million will be awarded for any fresh idea and VND140million is set for implementation of a project.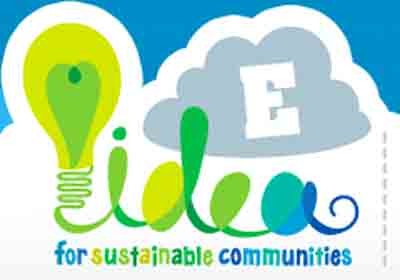 Logo of the competition
The British Council and Lloyd's Register Quality Assurance (LRQA) in Australia, China, Japan, Indonesia, South Korea, Thailand and Vietnam will launch the competition across the Asia Pacific Region.
A website, www.e-idea.org is now up and running and will provide information and offer applications forms for interested participants. The competition starts on May 3 and closes by July 3 in Vietnam.
Participants in the competition must have clear ideas on how to address some of the biggest environmental challenges facing local urban communities. These include waste reduction and efficiency, environmental transport and travel, energy reduction and water efficiency.
William Hague, UK Secretary of State for Foreign and Commonwealth Affairs, formally announced the regional competition at the Sydney Opera House in January 2011, described E-idea as: "Addressing one of the central problems in world affairs and called for people's ingenuity and entrepreneurship in doing so. I hope many, many people are going to take part."
Robin Rickard, Director of British Council in Vietnam commented: "Vietnam is a fast-moving dynamic and truly entrepreneurial culture.  It is also one of the countries most at risk from climate change and with urban expansion facing more environmental concerns than most.
LRQA have agreed to contribute £260,000 towards the implementation of the seven Asia Pacific programs. In addition to financial support, LRQA and the British Council will equip E-idea winners with leadership skills, project management skills and related knowledge. Winners will also become part of the British Council and LRQA's regional E-idea network, giving them access to national and international training and networking opportunities.
With a proven record of accomplishment for working with young people across countries and cultures, the British Council is ideally positioned to engage and empower young people committed to finding solutions to climate change and sustainable issues. The British Council already works directly with more than 120,000 young people in over 60 countries who are interested in tackling climate change.
LRQA, as part of the 250-year-old Lloyd's Register Group, brings a well-established independent and authoritative professional global network as well as a high level of technical climate change expertise. The E-idea competition will enable the young winning entrepreneurs to plug into LRQA's global business network of 50,000 clients.