On the second day of his working visit to Viet Nam, Cambodian National Assembly President Heng Samrin led his delegation to visit several Vietnamese Party and Government leaders. The two sides expressed their wishes to boost the bilateral comprehensive cooperation in the coming time.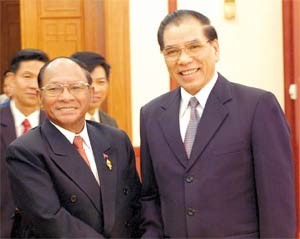 General Secretary Nong Duc Manh (R) welcomes Cambodian National Assembly President Heng Samrin.
On the evening of July 7, at the Central Party Office, General Secretary of the Communist Party of Viet Nam (CPV) Mr. Nong Duc Manh warmly welcomed Cambodian National Assembly President Heng Samrin and his delegation, who are on an official visit to Viet Nam from July 6.
The Vietnamese General Secretary congratulated the Cambodian people for their recent success and wished they would make more achievements in building the nation, making Cambodia a peaceful, non-aligned, prosperous and friendly nation, especially to its neighboring countries.
Besides, Mr. Manh affirmed that Viet Nam will do its best to constantly develop its traditional friendship with Cambodia under the motto "good neighborliness, traditional solidarity and friendship and long-term sustainability."
Also on the same day, Vietnamese President Nguyen Minh Triet received the Cambodian delegation, led by National Assembly President Heng Samrin and his lady, at the Presidency Palace.
Mr. Triet warmly welcomed the newly elected Cambodian legislation chief's visit, saying that he highly appreciated this as a contribution to the strengthening of the long friendship between the two peoples.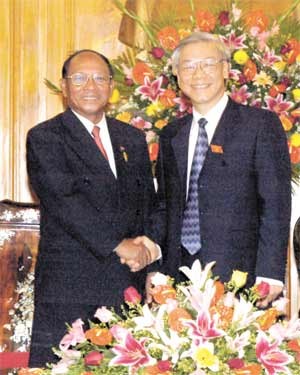 Vietnamese National Assembly Chairman Nguyen Phu Trong (R) receives Cambodian National Assembly President Heng Samrin.
Before that, the delegation had a meeting with Vietnamese Prime Minister Nguyen Tan Dung at the Governmental Office in the morning.
NA President Heng Samrin expressed his happiness on the Complementary Treaty on the 1985 Treaty on the Delimitation of State Border, considering it to be an important legal foundation for the socio-economic development of the border corridor area. The meetings of authorities from the two countries' border provinces marked a new step in their development, he said.
Addressing the meeting, President Heng Samrin quoted that the bilateral trade turnover between the two countries in 2005 reached US$700 million and expressed his wished to increase the number to US$1 billion in 2006.
On this occasion, Mr. Heng Samrin awarded National Assembly (NA) Chairman Nguyen Phu Trong and former NA Chairman Nguyen Van An the Friendship Medal of the NA of the Kingdom of Cambodia in Ha Noi in their meetings.
On the evening of July 7, President Heng Samrin and other distinguished Cambodians guests attended at a banquet given by Chairman Nguyen Phu Trong at the Governmental Guest House.