Comrade Nguyen Minh Triet was re-elected by National Assembly deputies as State President with 98.78 percent of votes this morning at the 12th National Assembly sitting.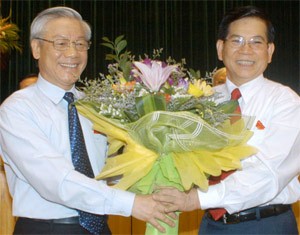 Mr. Nguyen Minh Triet (R), who is re-elected State President on July 24, receives flowers from NA Chairman Nguyen Phu Trong

In a speech, the President spoke of major tasks for the new term with emphasis on building a law-governed socialist State of the people, by the people and for the people.

"Our State must function as the main tool to implement the people's democratic rights under the Party's leadership," said President Triet.

He pledged to cooperate with the 12th NA in ensuring that the legal system is able to supervise, consider and make decisions on the country's important issues.

He also reiterated his resolve to step up the country's socio-economic and cultural progress, to integrate into the global economy, accelerate judicial and administrative reforms and intensify the fight against corruption and wastefulness.

President Triet made several recommendations; he recommended Nguyen Thi Doan, the Deputy Chairwoman of the Party Central Committee's Commission for Inspection and the 12th NA deputy of northern Ha Nam province to the post of Vice State President, and Nguyen Tan Dung to retain his position as Prime Minister.

He also recommended Truong Hoa Binh, the Deputy Minister of Public Security, to the post of Chief Judge of the People's Supreme Court, and the Vice Director of the People's Supreme Procuracy, Tran Quoc Vuong, to the post of Director.

As scheduled, the NA deputies will discuss the recommendations in the afternoon and gather at July 25's morning plenary session to cast their votes for the posts of Vice State President, Prime Minister, Chief Judge of the Supreme Court and Director of the Supreme Procuracy.