All resources must be mobilized to ensure that the Dung Quat Oil Refinery is put into operation safely and on schedule in February 2009, said Deputy Prime Minister Hoang Trung Hai.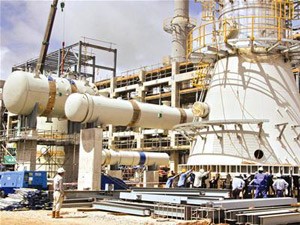 Dung Quat Oil Refinery under construction
During an inspection tour of the nation's first ever refinery that is being built in the central province of Quang Ngai, Mr. Hai said on September 21 that the "target of putting the refinery into operation next February is feasible and obvious."
 
The deputy PM, head of the State Steering Board for key oil and gas projects, asked managers, workers, engineers, and foreign experts to keep implementing strictly their commitments and contracts, cautioning that there important tasks still  remaining, and the trial run was due very shortly.
 
PetroVietnam, main investor in the refinery, has to prepare well its workforce and take all safety precautions necessary, Mr. Hai said.
 
He asked the oil refinery management board to focus on training qualified engineers to run the refinery after it becomes operational.
Mr. Hai also asked Quang Ngai Province to work closely with the oil refinery management board to speed up land clearance and stabilize displaced people's lives in resettlement areas.
 
He praised contractors, investors and workers for their efforts to speed up implementation of the project over the past 39 months.
 
More than 90 percent of the project's bidding packages have been completed by contractors and investors since the groundbreaking ceremony in June 2005.
 
The EPC 5A bidding package to build a breakwater for the oil refinery was completed five months ahead of schedule in May 2008.
 
Several sub-projects of the refinery have already been put on trial runs.
The oil refinery has a designed capacity of 6.5 million tons per year and is expected to meet one-third of the country's demand for petroleum.
 
Viet Nam exports crude, but has had to import all its petroleum needs because it does not have a refinery.
 
The Dung Quat Oil Refinery and two others planned in the future are expected to meet 40 percent of domestic demand when they become operational.