President of the Council of State and President of the Council Ministers of Cuba Raul Castro Ruz has extended deep sympathy to Vietnam over the passing of General Vo Nguyen Giap, Cuba's close and faithful friend.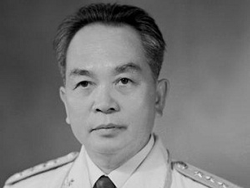 General Vo Nguyen Giap (Source: VNA)
The Cuban people will always keep the image of General Giap in their mind with admiration and deep respect, and the Cuban revolutionary armed forces will respect the General's valuable contributions to Cuban military theory, he said in his message.
The Central Military Commission of the Communist Party of China also sent a message of condolences, which wrote "General Vo Nguyen Giap devoted all his life to the national liberation and socialism building cause of the Vietnamese people with great accomplishments. He used to directly take part in China's revolutionary struggle and was a close comrade of the Chinese people and military."
The message also praised General Giap's efforts to improve and develop the Vietnam-China relations, especially the ties between the two armies, making contribution to the development of ties between the two countries and armed forces.
Brazilian President Dilma Rousseff and Venezuelan people, President Nicolas Maduro extended deep sympathies to the Vietnamese government and people over the loss of a hero in the world modern history.
Palestinian President Mahmoud Abbas said in his message that the Palestinian people will forever remember the consistent support and solidarity the General gave to the Palestine's just struggle to end occupation and achieve freedom and independence.
Algerian President Abdelaziz Bouteflika described General Giap's death as a great loss not only to the Vietnamese but also Algerian people.
"The General's great merits to the country's independence and unification are the valuable asset which all Vietnamese generations need to preserve," President Abdelaziz Bouteflika wrote in his message.
The Dominica United left-wing Movement emphasised that the General's contributions will always be a source of encouragement to those who are pursuing the path of fighting for national freedom, happiness and peace.
The Cyprus' Progressive Party of the Working People expressed the belief that General Giap's life and contributions will live forever in efforts to build a peaceful and prosperous Vietnam .
Thai Ambassador to Vietnam Anuson Chnvanno wrote in his message of condolences that the death of the Vietnamese national hero is a great loss to all of us.
Uruguayan President Jose Mujica Cordano said in his message that the Uruguayan people stand side by side with the Vietnamese people to honour General Giap, a brilliant strategist and an inspirer of freedom in the world.
Argentinean Ambassador to Vietnam Claudio Gutierrez wrote, "We will always remember him as an example of not only a military genius but also of heroism, patience and patriotism in the struggle for national independence, sovereignty and dignity".