A conference on underground construction by APAVE Vietnam and South East Asia opened in Hanoi on July 15.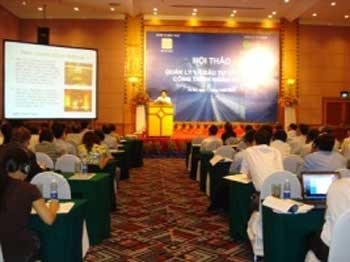 Many relevant departments participated in the conference on construction of urban underground works in Hanoi on July 15
Addressing the conference, Nguyen Hong Tien, vice director of the Technical Underground Department, said Hanoi is carrying out a few underground works for electric and telecommunications cables.  
He said that many cables are temporarily hidden in some big drains instead of being put in correct pipes. However, this is a short-term solution to ensure the project is completed before Hanoi's 1000th anniversary next year.  
Ho Chi Minh City has begun installing cables underground but has added to current traffic problems. 
The conference also highlighted the issues concerning two underground metro projects in Hanoi and Ho Chi Minh City, which have received much public attention but progress was slow.  
Problems for the metro were said to have come about from city planners unsure as to what they want and keep changing their minds.  
As for management for urban underground works, Dr Nguyen Van Hiep, deputy director of HCMC Department of Construction, believed that many parts of Vietnam had already installed some underground works, including water, electricity and telecoms, but there is yet no central oversight. 
Every project contractor takes care of their work alone. 
HCMC has also yet to complete a detailed map of underground works, especially in water supplies and electricity cables.   
Local telecommunication operators still hang their cables on high tention poles, as it is cheaper, creating "spider's webs," with various cables hanging about in an abstract and dangerous fashion.