The State Committee for Overseas Vietnamese will organize the first ever global conference on ethnic Vietnamese in Hanoi from November 20 to 24.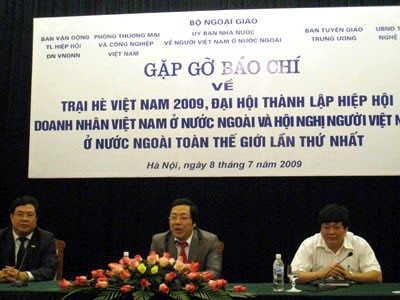 Officials from the State Committee for Overseas Vietnamese announce the first global conference for overseas Vietnamese at a media briefing in Hanoi on July 10, 2008 (Photo: VNN)
The committee, which is under the Ministry of Foreign Affairs, expects the conference to strengthen the ties between Vietnamese living abroad and their home country.
Around 1,000 delegates living in Vietnam and abroad are expected to attend to discuss the status of the Vietnamese community and development of the country.
 
On the sidelines, seminars themed "Building a community of overseas Vietnamese who show strong solidarity, be successful, and turn to the country," "Preserve and bring into play the national culture and tradition," "Overseas Vietnamese experts' and intellectuals' contribution to their home country's development," and "Overseas Vietnamese entrepreneurs' contribution to building the country" will be held.
 
Deputy Minister of Foreign Affairs Nguyen Thanh Son, chairman of the committee, said the conference would provide a forum to exchange views and collect opinions to thoroughly assess the status of the overseas Vietnamese community and build a community that preserves the national character and has a strong attachment to the country.
 
The conference is among the main activities under a Government action program on expatriate Vietnamese affairs and the Prime Minister's Instruction 19 on overseas Vietnamese affairs, he explained.
Instruction 19 calls on provinces and ministries to take responsibility for overseas Vietnamese affairs and requires them to protect the interests of overseas Vietnamese enshrined in Vietnamese laws, international conventions, and precedents, he said.