The Communist Party of Vietnam (CPV) Central Committee has congratulated the Communist Party of Cuba (CPC) on the seventh national congress, which is taking place in Havana from April 16 – 19.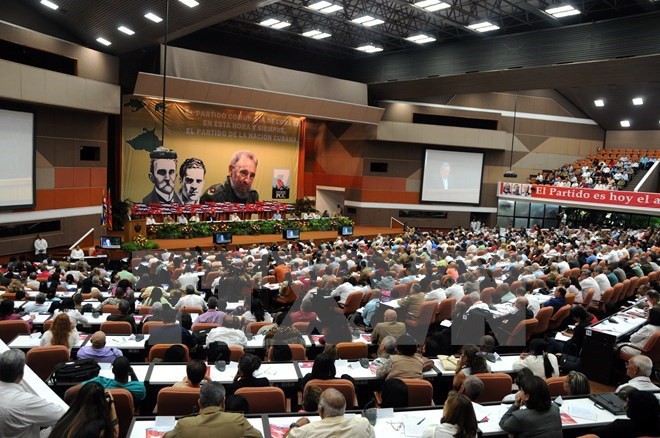 The seventh national congress of the Communist Party of Cuba opens on April 16 (Photo: Xinhua/VNA)
Wishing the congress successful, the CPV Central Committee says the event is held amidst swift changes and complex developments in the global political and security situation. The sluggish global economic recovery and climate change, among others, are posing massive challenges to countries around the world, especially developing ones.
Braving that fact, the CPC and Cuban people have reaped enormous achievements during the updating of the economic model and gradually broken embargoes imposed for more than five decades.
Cuba has continually been a symbol of the revolutionary heroism, the unyielding will and the powerful trust in freedom, equality and dignity for its own and other nations across the globe, the CPV Central Committee says.
It expresses the belief that the CPC's seventh national congress will continue intensifying the "Guidelines of the Economic and Social Policy of the Party and the Revolution" and the targets set up at the first congress, so as to help Cuba take firm steps towards the socialism.
In its message, the Vietnamese Party says the two countries have been side by side during the past struggle for independence and freedom and the current national development and protection. It is a rare friendship and solidarity and also an invaluable asset that the two Parties and peoples have nurtured.
The CPV Central Committee voices its delight at the growing relations between the two sides, adding that Vietnam always keeps in mind the great support given by the Cuban Party, State and people.
It reiterates Vietnam's consistent stance of continuing to solidify the exemplary fraternal relationship, traditional amity, comprehensive cooperation and constant solidarity between the two Parties, States and peoples.