At a seminar in the southern province of Binh Duong on Monday, Construction Minister Trinh Dinh Dung appealed to the gov't to help workers of industrial parks who could not afford high lodging rents on their meager earnings.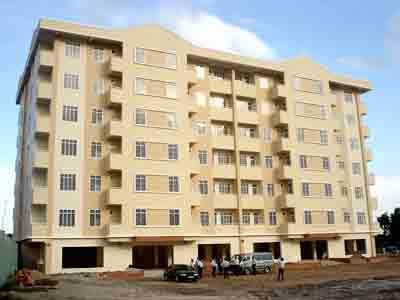 A housing block for workers of a textile company in Binh Duong Province still under construction (Photo: SGGP)
The seminar was organized by the Ministry of Construction in the southern province of Binh Duong, to discuss and find solutions for workers who worked in industrial parks on meager incomes but had to foot very high rentals for sub-standard lodgings.
The minister said that the country had 260 industrial parks and 80 percent of the workers were living in substandard lodgings, paying exorbitant amounts as rent of up to VND1.5 million to VND2 million (about US$95) per month, while there entire earnings were only  VND1.8 million to VND2.4 million per month, excluding mid-day meals at work.  The government must therefore step in to resolve this serious issue.
The southern province of Dong Nai has 30 industrial parks with 420,000 workers including 252,000 immigrant workers. According to the province Department of Labor, Invalids and Social Affairs, around 35,000 workers had to rent a house in 2011.
The province has plans to provide accommodation for employees of industrial parks. Until now, 17 out of 61 housing construction projects have been completed.
Similarly, the southern province of Binh Duong which has many more industrial parks and around 250,000 workers in the province are in need of a house. The province has vowed to resolve 50 percent of the demand by 2015.
Ho Chi Minh City has 1.9 million workers including 1.33 million from other provinces, of which at least half need to rent a house.
Participants at the seminar said the biggest hindrance in building houses for workers is that the government has not issued preferential policies for housing construction investors, who cannot avail of the necessary capital.
Nguyen Van Danh, Deputy Director of the Department of Construction in Ho Chi Minh City petitioned the government to provide financial support to individuals who could build lodgings for workers.
Some participants suggested that the government should also establish a housing fund for workers with low income.
The construction minister promised the government to give support to housing construction projects for workers by issuing preferential policies as well as encouraging state-run companies to participate in building houses. Dung stressed that employers must also build apartments for their laborers.
The Ministry plans to listen to all ideas from investors and individuals for the setting up of social housing construction projects.