A detour being built around the collapsed section of Highway 91 in the Mekong Delta Province of An Giang will be completed on April 11, one week behind schedule.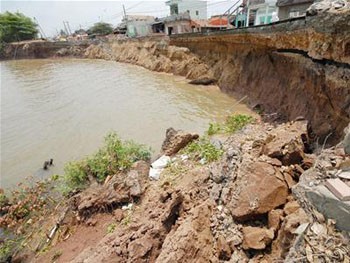 The building of a detour in An Giang Province around a section of Highway 91, which collapsed into the Hau River in late March, is now a week behind schedule (Photo: Tien Phong)
Deputy Minister of Transport Ngo Thinh Duc, An Giang Province leaders, and the Road Management Zone 7 made the announcement at a meeting April 3 to discuss the detour's progress.
The new road is being built after a section of the highway collapsed March 22 and 23 into the Hau River in Binh My Commune of Chau Phu District.
The two lane detour was expected to be finished by April 4 to permit vehicles with fewer than 16 seats to travel through.
However, Road Management Zone 7 said it had failed to complete the project on time due to a host of difficulties.
The most challenging issue was filling ditches, muddy holes and pits that were made by brick factories to contain ash and rice husk discharged in the production process, the officials said.
Carrying out work at night has also been difficult as there are no floodlights in the area and workers have had to clear areas to contain building materials and waste, which has been very time consuming, they said.
After discussing the issue, the transport deputy minister, provincial leaders and Road Management Zone 7 agreed to move the deadline to April 11 and tasked the provincial Department of Transport and Chau Phu District with assisting in the timely execution of the project.
Nguyen Van Tuoi, deputy chairman of Chau Phu District, said that 99 households in the area have had to be evacuated and compensated a total of VND12.3 billion (US$647,000).
The district has so far released VND7 billion and the province said it would give the district the remaining VND5.3 billion on April 3.
Related articles:
An Giang rushing to build detour around collapsed highway