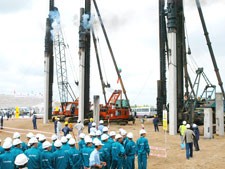 At the groundbreaking ceremony of Ca Mau Gas – Power Plant
The groundbreaking ceremony of Ca Mau Gas – Power Plant was held with the attendance of Deputy Prime Minister Nguyen Tan Dung on April 9, 2006. The investment capital is US$1.2 billion.
The deputy prime minister highly commended the investors for their quick construction of the important economic, social and national works, paving the way for industrialization and modernization of the Mekong Delta.
He also urged the contractors to strictly abide by the approved project and to supervise the construction timely.
According to the Ca Mau Gas – Power project, a 300-kilometer South - West pipeline will be set up to carry natural gas from offshore fields (PM – 3 CAA block) to Ca Mau Province.
It is expected to provide two billion cubic meters of gas each year for two power plants (Ca Mau 1 and Ca Mau 2) with a capacity of 750 MW each. Ca Mau 1 and Ca Mau 2, which are parts of Ca Mau Gas – Power – Fertilizer Complex, will contribute 10 billion kWh to the national electricity grid. 
Petro Viet Nam is the main investor of the project, and Lilama Corporation, in cooperation with Vietsopetro, is responsible for engineering, procurement and construction (EPC).
As scheduled, the pipeline will become functional by the end of 2006. Ca Mau 1 Power Plant is expected to start generating power in March, 2007, and Ca Mau 2 will go into operation in March, 2008.