Ground breaking on a new Ha Noi-Hai Phong Highway, Viet Nam's first international standard highway, took place Monday in Hai Phong.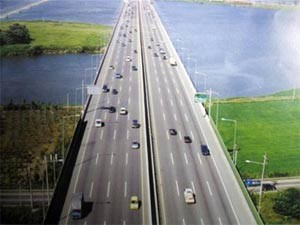 Model of the Ha Noi - Hai Phong Highway

The six-lane highway will be 105.5km long and 32.5m to 35m wide. It will go from Ha Noi to Hung Yen, Hai Duong and Hai Phong Port and is designed to carry vehicles at speeds of up to 120km/h. Cars with design speeds of less than 60km/h and motorbikes are banned.

Upon completion in 2011, the new highway will connect to existing highways at six points to be able to give cars and container trucks convenient access to the biggest sea port in the North.

The project, which has an estimated cost of VND24.6 trillion (US$1.53 billion), will be financed by the Viet Nam Development Bank, the Bank for Foreign Trade of Viet Nam, the Halong Investment and Development Company and other investors.

Over 1,700 people and 1,250 families will be relocated to make way for road.

In his speech on Monday, Deputy Prime Minister Truong Vinh Trong stressed that the highway is of great significance for the development of Hai Phong City and the surrounding region.