Work has begun on the Phu Quoc International Airport that is planned to be 10 times larger than the island's existing facility.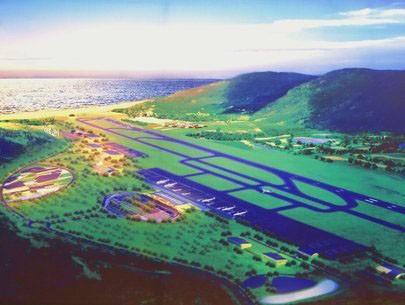 An artist's impression of Phu Quoc International Airport
The Southern Airports Corporation yesterday broke ground for it in the presence of Prime Minister Nguyen Tan Dung, Minister of Public Security Le Hong Anh, Minister of Transport Ho Nghia Dung and other officials.
To be built on over 900 hectares, it is expected to cost over VND16 trillion (nearly US$1 billion). 
Upon its completion in 2012, the airport will be capable of handling modern aircraft like the Boeing B767 and B767-400 and serving 3 million passengers per year.
Speaking at the ceremony, Prime Minister Dung said the airport is of great significance to the socioeconomic development of not just Phu Quoc but the entire country.
The island, the largest in Vietnam, has great potential for ecotourism, medical tourism, and business and services, he said.
A project approved by the Government seeks to turn the tourist hotspot into a national hub for tourism, services and commerce by 2020.