The first stage of the construction of Bai Dinh Pagoda has just been finished to mark the 2008 United Nations Day of Vesak (UNDV) with attendance of more than 2,000 pilgrims, Buddhist monks and nuns on May 17.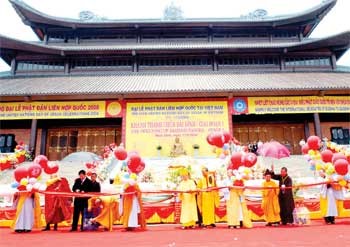 The inauguration of the first phase of Bai Dinh Pagoda's construction.
Covering an area of around 700 hectares, the pagoda located in Gia Sinh Commune, Gia Vien District, Ninh Binh Province is regarded as a biggest pagoda in the country once finished.
A special ceremony to pray for peace, prosperity and happiness for the country led by Most Venerable Thich Thanh Tu, Vice Chairman of the Viet Nam Buddhist Sangha (VBS) Executive Council, was organized.
Around 100 Buddhist shrines were also planted here, the largest number of Buddhist shrines planted in Viet Nam so far.
It was one of the 11 records in Vietnamese Buddhism recognized at the 2008 United Nations Day of Vesak (UNDV) in Ha Noi on May 15.
The work of Bai Dinh Pagoda was kicked off in the beginning of 2006 and will be completed in 2010 to mark the 1000th Founding Anniversary of Thang Long-Ha Noi. Though its construction is not yet finished, the pagoda welcomes hundreds of visitors everyday.
At the Bai Dinh Pagoda in Ninh Binh Province, there will be a biggest bronze statue of Buddha in Viet Nam, weighing 100 tons; three bronze statues featuring three tenses - past, present and future - weighing 50 tons each; a largest bronze 36-ton bell and 500 white-stone Arhat statues.

On the same day, 1,500 local and foreign delegates who took part in the 2008 United Nations Day of Vesak in Ha Noi visited Ha Long Bay and Yen Tu relic in Quang Ninh Province
Many festivals and ceremonies making the biggest Vesak festival and the "Buddha's birthday" were held cities and provinces nationwide like Thua Thien Hue, Da Nang, Highland city of Da Lat, Ho Chi Minh City and more.