Prime Minister Nguyen Tan Dung has directed all official agencies to expedite progress on construction projects and improve the efficiency of investment capital use.
He made the statement during an online conference on construction investment held on March 4 to review past performance and to discuss solutions to attract more capital and step up the progress of construction projects.

The amount disbursed from the country's total capital for development investment last year accounted for 80.9 percent of the year's plan, the highest rate to date. However, the country still needs to tackle impediments to investment procedures and quality, said Planning and Investment Minister Vo Hong Phuc.
Vietnam's total capital supply for development investment in 2009 amounted to VND704 trillion (US$37 billion), accounting for 42 percent of the GDP and an increase of 15 percent over 2008, Mr. Phuc reported.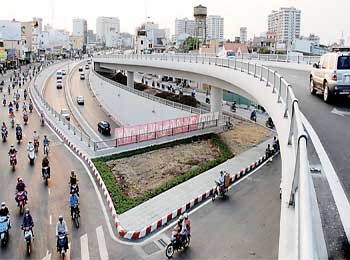 A section of the Thu Thiem Bridge in HCM City. During a March 4 conference on construction and investment, PM Nguyen Tan Dung urged all agencies concerned to step up progress of construction projects and ensure investment efficiency. (Photo: SGGP)
Minister of Finance Vu Van Ninh said the 2009 disbursement rate was double that of 2008 and the capital disbursed from the State budget in 2009 made up 98 percent of the year's plan.

He attributed the good performance to strong efforts by agencies and authorities at all levels, including those in Ho Chi Minh City, in improving investment procedures and boosting the progress of construction projects.

For instance, HCMC authorities used all possible means to mobilize capital, including issuing bonds of privately owned companies to the global financial market, he said.

The city boosted capital allocation to key projects, suspended inefficient ones, and removed obstacles for investors, said Nguyen Thanh Tai, standing deputy chairman of the People's Committee.

Last year, HCMC completed and put 130 projects into operation and its capital disbursement rate reached 94 percent of the year's target, an increase of 52 percent over 2008, he added.
However, meeting participants agreed that several problems remained for investors.

For example, investment projects must go through more than 400 administrative procedures before being approved, said an official from northern Quang Ninh Province.

After reviewing the extensive bureaucracy, provincial authorities found 78 percent of the formalities were in need of revision, the official said.

Many projects have also been delayed due to slow and insufficient capital allocation, said Mr. Ninh.
Capital for student dormitories, for instance, was allocated too slowly, meeting only of 22 percent of their needs, he said.

Deputy Prime Minister and Minister of Education and Training Nguyen Thien Nhan blamed the situation on poor coordination between agencies concerned with capital disbursement.

Another hot topic discussed during the meeting was site clearance for projects, which often displaces residents and gives rise to compensation and relocation issues.

Minister of Natural Resources and Environment Pham Khoi Nguyen called for the establishment of a fund to support citizens subject to relocation. The fund would be used to generate jobs and vocational training for relocated people, he said.

Investment efficiency must be improved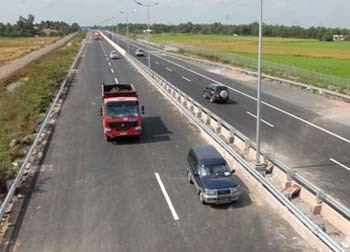 A section of the HCMC-Trung Luong expressway, one of the city's key traffic works, which has been open to traffic since March 2, linking the city to the southern province of Tien Giang (Photo: SGGP)
The total capital required for development investment this year is VND791 trillion ($41.6 billion), of which VND125.5 trillion ($6.6 billion) will come from the State budget, said Minister Ninh.
The country must mobilize capital from many different sources to complete construction plans set for the 2006-2010 period and prepare new plans for the five years to follow, he said.

The capability of both investors and project management units remains poor, said Deputy Prime Minister Hoang Trung Hai. He asked that qualified contractors, consultants and supervisors be assigned to construction projects to ensure the efficient use of capital.

He also told the Construction Ministry to transfer project management software to project management units to help improve their management capability.

Capital must be allocated to the right projects and for the right purposes, said PM Dung. He asked agencies concerned to review and streamline the process of project assessment and approval as well as bidding processes.

The PM also called for better coordination between official agencies and asked them to prevent wastefulness and wrongdoings in the field of capital construction.