The World Bank-chaired annual Consultative Group meeting of Vietnam donors, set for Dec. 7-8 in Hanoi, will focus on stabilizing the macro-economy and focusing on sustainable development, the WB said.
Topics for discussions include macroeconomic situation in 2010 and directions for 2011; governance, transparency and effectiveness of the state economic sector; governance and anti-corruption, WB said in a statement seen on Tuesday.
On the agenda will also be priorities for sustainable development, ensuring social inclusion, and the future of development partnership as Vietnam enters the group of medium-income countries.
The chairpersons of the meeting are Mr. Vo Hong Phuc, Vietnamese Minister of Planning and Investment, and Ms. Victoria Kwakwa, World Bank Country Director for Vietnam.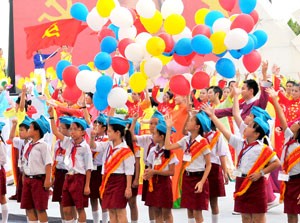 (SGGP file) Children attend a historic ceremony in Ho Chi Minh City
Ahead of the CG meeting, a separate Vietnam Business Forum (VBF) with the private sector – domestic and foreign – will be held on December 2 in Hanoi, by the World Bank's International Finance Corporation (IFC) in cooperation with the Vietnamese Ministry of Planning and Investment.
The forum will be dedicated to investment climate perception presented by local and foreign business associations, brief on Vietnam's economy in 2010 and development plan for 2011, and reports from VBF Working Groups.
The CG for Vietnam consists of representatives from the Government of Vietnam, bilateral and multilateral donors, and non – governmental organizations.
The Government delegation is expected to be led by Prime Minister Nguyen Tan Dung, and will include senior representatives from key ministries and governmental bodies.
During last year's CG Meeting held in December, development partners committed over US$8 billion in support of Vietnam's poverty reduction and development agenda.