The World Bank-chaired annual Consultative Group meeting of Vietnam donors, set for Dec. 3-4 in Hanoi, will focus on rapid and sustainable economic growth, the WB told a press briefing in the capital Thursday.
The meeting will discuss measures to balance growth and stability objectives, according to the WB.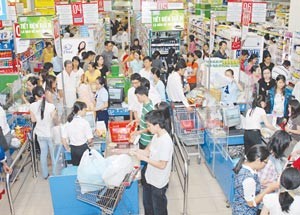 Shoppers at a supermarket in Ho Chi Minh City. Analysts say purchasing power has increased, following economic recovery seen in Vietnam. (Photo: SGGP)
Topics for discussions will include sustaining macroeconomic stability, re-positioning the economy for growth in a post-crisis world, emerging challenges for poverty reduction, strengthening public administration and fighting corruption, ensuring sustainable development, and others.
The chairpersons of the meeting are Mr. Vo Hong Phuc, Vietnamese Minister of Planning and Investment, and Ms. Victoria Kwakwa, World Bank Country Director for Vietnam.
As scheduled, Vietnam's government delegation will be led by Prime Minister Nguyen Tan Dung and include senior representatives from key ministries and governmental agencies.
The meeting is to provide a forum for discussions of the opportunities and challenges facing the Southeast Asian country. Representatives from the Asian Development Bank and government officials from around 50 countries, including the U.S., Japan, Britain and France, are expected to attend the meeting.
Ahead of the meeting, a separate Vietnam Business Forum (VBF) with the private sector – domestic and foreign – will be held on December 1 in Hanoi, by the World Bank's International Finance Corporation (IFC), in cooperation with the Vietnamese Ministry of Planning and Investment.
This year's forum will be dedicated such topics as investment climate perception presented by local and foreign business associations, a survey on company's view of Vietnam's investment potentials, recap of dialogue progress under VBF in 2009, and reports from VBF working groups.
At last year's CG meeting held in Hanoi last December, partners committed a record amount of over US$5 billion in support of Vietnam's poverty reduction and development agenda.
Vietnam's Ministry of Planning and Investment forecast that the total of official development assistance committed for this year can exceed US$5.05 billion, and the number for next year may be higher due to introduction of new credit channels.