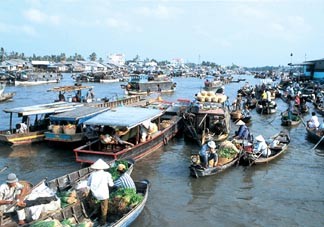 A floating market in Can Tho Province
The donors' group of the Mekong River Commission (MRC) for 2007 held its annual meeting in Ho Chi Minh City on Dec. 14.
Nearly 100 participants, including representatives of bank partners, decided to continue their assistance for MRC programmes including the two most recent ones.
The Danish government pledged to provide 9 million USD for the 2nd phase of the river basin development 2007-2010 plan and another project on environment. The Belgian government promised to give financial assistance to two new projects, developed in 2007, dealing with drought control and hydro-power.
This year, the MRC signed 13 aid projects worth a total of 19.3 million USD.
Source: VNA