Hundreds of container loads of discarded and unclaimed cargo are lying around Hai Phong Port, causing a veritable headache for the port authorities who now have to find ways to deal with unwanted goods.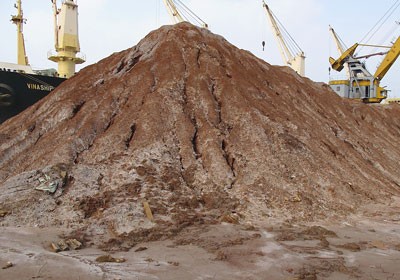 Almost 6,500 tons of unclaimed zinc ore has been at Hai Phong Port for the last six months (Photo: SGGP)
According to Cao Trung Ngoan, deputy director general of Hai Phong Port, six months ago the port received a consignment of 6,500 tons of zinc ore as transit cargo from South Korea to China.
The importer, STC Trade and Services Company from Hong Bang District in Hai Phong City, signed a contract with Hai Phong Port to unload the ore at the port's yard. Since then they have not returned to claim the goods.
 
On August 14, Hai Phong Port unexpectedly received a document from STC informing that they wanted to disown the zinc ore because they could not contact the original consignment owner in China.
Hai Phong Port is now losing VND195 million (US$9,346) on yard rental costs to accommodate this unclaimed zinc ore, which is also causing environmental pollution. After every rainfall, port management has to dispatch ten workers to shovel and clear the ore and prevent it from flowing out with the rainwater into the drains and blocking them.
According to some experts, the above zinc ore is in fact a kind of industrial waste.
Ngoan said that costs of unloading, transporting and storing the zinc ore for the last six months has far exceeded the actual value of the consignment.
Since May of this year, Customs in Hai Phong City have uncovered hundreds of such unclaimed consignment goods, several of which could be termed as toxic.
Customs officials and authorized organs have examined 455 containers that are now past their expiry date.  Several of these were found to contain industrial waste, animal organs and illegal frozen pangolin.
This situation has been occurring at Hai Phong Port for several years.
The consignments are shipped to Vietnam as transit cargo before being moved to other countries, most of the time to China. In fact, Vietnamese businesses have been paid by Chinese companies to do so.
Goods are imported to Hai Phong Port then transported to border areas in Quang Ninh Province and Lang Son Provinces for re-export to China. However, when Chinese authorities tighten control on the border, these shipments are dumped and discarded, with no claimants for them later.
For this, Vietnam has to spend a large amount of money to destroy and get rid of goods, not to say the damage caused to the environment.
 
The Prime Minister has issued a circular effective since September 2012, for prosecution of any party importing goods and later disowning all responsibility for them.