The Mekong Delta has entered peak harvest time for the summer-autumn rice crop, but continuous rain hinders the harvest, flattening the standing rice crop and lowering rice quality.
Farmers manually harvesting rain-flattened summer-autumn rice in Chau Thanh A District in Hau Giang Province (Photo: SGGP)
Lam Van Tuoi, a farmer from Giong Rieng District in Kien Giang Province, said that he has not been able to harvest his rice crop due to continuous rainfall this last one week. Several hectares of standing crop has fallen and flattened to the ground, lowering quality, which traders have refused to purchase.
In a similar situation, Dang Hung Cuong, from Dong Binh Commune in Thoi Lai District of Can Tho City, said that rice harvesters cannot function until the rain abates. Cuong fears heavy losses and fall in output. 
Tran Dien Lan, head of Dong Giang Hamlet in Dong Binh Commune, said that they had planned to reap the entire 242 hectares of summer-autumn rice by mid June. However continuous rain has shelved the plan with only 40 percent of the area having completed harvesting.
The Department of Agriculture and Rural Development in Long An Province said that uninterrupted rain has allowed only 13 percent of 230,000 hectares of the standing rice to be harvested.
 
Rice prices have dropped to a mere VND3,500-3,900 a kilogram for fresh normal variety and VND4,100-4,200 for long grain variety, but traders still refuse to buy.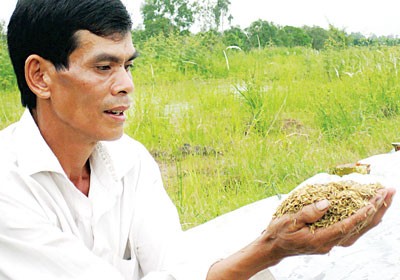 Several farmers in the Mekong Delta are anxious as traders refuse to buy wet rice (Photo: SGGP)
The agriculture industry in the Mekong Delta said that continuous rain has reduced both rice quality and output, causing more difficulties for local farmers who already face low prices and low demand.
Businesses should speed up stockpiling of rice to reduce losses to farmers, said Le Van Banh, head of the Rice Research Institute in the Mekong Delta.
 
The State Bank has instructed 14 commercial banks to loan money to businesses to purchase summer-autumn rice for stockpiling. These companies will be assisted with 100 percent interest free rate for three months beginning June 15.
According to the Vietnam Food Association, businesses have exported more than 2.85 million tons of rice worth US$1.24 billion since the beginning of this year.