Yesterday, a cooking contest with the title "For our loving open house" was held at the Southern Women Museum to create a playground for 400 children from 67 schools for the disabled, open houses and charity organizations in HCMC and neighboring areas.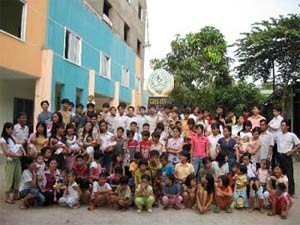 Orphan chidren in Que Huong Charity Organization

Meanwhile, the Love Children Newspaper and the HCMC Committee for Population, Family and Children held a press conference on June 27 to open a new cooking contest named "Family's Flavor". The contest which is coincidentally held in "the month of children" is also a gift given to 500 other children from local orphanages and open houses.

These are two of many typical activities held by various State and non-State organizations throughout the year to offer a helping hand to the unlucky and disadvantaged children in Viet Nam.

The contest will be held at the Sai Gon Botanical Garden on June 30.