The fight against corruption must be carried out resolutely, the legal system must be perfected, and the executive should become more efficient, President Nguyen Minh Triet said at a meeting with voters in Ho Chi Minh City on December 1.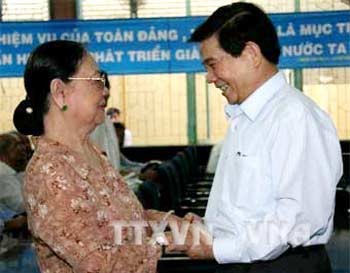 President Nguyen Minh Triet meets a voter in District 3, HCMC, on December 1 (Photo: VNA)
Responding to complaints from residents in District 3 that anti-corruption efforts have yet to prove effective, he said it was partly due to poor management by State agencies and the weaknesses of the legal system.
All acts of corruption must be dealt with firmly but it is thus essential to first improve the legal system and strengthen the capability of the State apparatus and law-enforcement agencies, Mr. Triet said.
Asked about the illegal establishment of a fund in Song Hau Farm, he said the case would be handled thoroughly and asked people to be patient and have confidence in the investigators.
Voters voiced their concern about the rise in consumer prices, which they said seriously affects people, especially the poor.
They also complained about poor infrastructure, deforestation, excessive exploitation of natural resources, squander of public funds, and the shortcomings in the education and healthcare sector.
Nepotism has long plagued State agencies but it has yet to be addressed, causing discontent among the public, they said.
Also present at the meeting were two National Assembly deputies representing the city, Tran Du Lich and Nguyen Dang Trung.
NA chairman meets Hanoi voters
National Assembly chairman Nguyen Phu Trong meet voters in Hanoi on December 1 and apprised them of the main happenings at the recent NA session and listened to their opinions and suggestions.
People told him that corruption cases must be handled strictly with all money and assets amassed through corruption confiscated.
They also called for carefully reconsidering the Red River City project, a very large project in terms of population and infrastructure, to ensure the sustainable development of the Red River Delta, especially Hanoi.