Viet Nam's authorities and organizations visited and presented gifts to war heroes, invalids and martyrs' families throughout the country yesterday to mark the 60th anniversary of War Martyrs and Invalids Day (July 27) and to express gratitude to them who struggled for the national independence.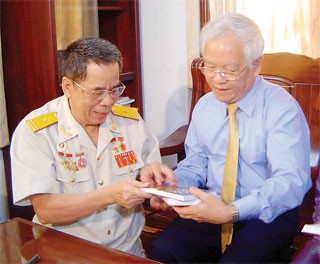 Hero Nguyen Van Thuong (L) presents City Chairman Le Hoang Quan a book about his life of revolutionary activities
Head of the Vietnam Women's Union visited General Vo Nguyen Giap, who had three relatives killed in the war.

General Giap, the top commander of the Vietnamese People's Army in the two wars of resistance against the French colonialists and American imperialism, witnessed many soldiers sacrifice their lives heroically for the motherland, and witnessed many more soldiers and fellow-citizens grieve the loss of relatives and loved ones.

On this occasion, General Giap expressed his wishes and hopes for those war invalids, martyrs' families, Vietnamese heroic mothers, and others who made great contributions to the wars, to continue to learn and follow the example of great Uncle Ho and the many martyrs, and contribute to the building and development of the country.

On the same day, Ho Chi Minh City Chairman Le Hoang Quan led the City's delegation on a visit to present gifts to wounded soldiers and martyrs' families in District 5 and Binh Thanh District.

On a visit to Nguyen Van Thuong, an intelligence soldier awarded the title of Hero of the People's Armed Forces, city Chairman Quan said, "What hero Nguyen Van Thuong experienced (in the war) has been recorded in the nation's history. He is a witness to the history. The present and future generations will be always grateful to him and learn from his unyielding and faithful mind."

Although Mr. Thuong was tortured, he decidedly did not reveal names of intelligence officers during the war.

Chairman Quan gave Phan Thi Quyen, wife of martyr Nguyen Van Troi, a picture taken in the Republic of Venezuela showing Party Chief Nong Duc Manh during his visit to the South America country receive leaders of a guerilla team who had kidnapped an US colonel for exchange with hero Nguyen Van Troi 40 years ago.

Standing Deputy Secretary of the HCMC Party Committee Nguyen Van Dua, standing member of HCMC People's Council Tran Thi Thanh Dieu, and Deputy of the HCMC People's Committee Nguyen Thi Ha, visited and gave presents to martyrs' relatives, veterans and heroic mothers living in Thi Nghe Center for Old People.

Nguyen Thanh Tai, standing Vice Chairman of the HCMC People's Committee also led a group to visit families whose members were active in the wars in Phu Nhuan District, and districts 9 and 6.

Many districts in the city also presented houses, gifts, and savings books to those people.

On the same day, the People's Committee of the northern province of Thai Nguyen held a solemn ceremony to receive remains of seven martyrs back from the southern province of An Giang in order to bury them in the martyrs' cemetery of the province.

In the morning, an exhibition of over 300 photographs, documents and valuable items of war martyrs and invalids opened at the National Museum of Vietnamese Revolution in Ha Noi.

In the evening, a television show themed "Linh thieng Viet Nam" (Holy Vietnamese) was broadcast live from Dien Bien Phu Martyrs' Cemetery and Ben Duoc Temple in Cu Chi District, it featured a commemorative ceremony for heroic martyrs.

The city's authorities visited the cemetery to burn incense, offer flowers and commemorate dozens of thousands of Vietnamese soldiers who died for the cause of national liberation.

An art performance also took place on the Con Dao Island in Ba Ria-Vung Tau Province with the participation of over 50 singers and actors from HCMC and 350 amateur actors from the island.