Millions of local residents and visitors enjoyed a peaceful Christmas in Ho Chi Minh City on December 24.
A joyous Christmas atmosphere pervaded districts and residential areas, and churches throughout the City wore a festive look by early afternoon on December 24.
People flocked to the City Center leading on to main streets such as Tran Hung Dao, Vo Van Kiet, Nguyen Thi Minh KHai, Nam Ky Khoi Nghia, Le Duan, Ton Duc Thang, Le Loi and the area of the tunnel crossing at the Saigon River on East West Highway. All people tried to also reach the Notre Dam Cathedral.
Parishes on Pham The Hien Street in District 8 and in Xom Chieu area in District 4 were decorated with thousands of colorful lights, pine trees covered with snow and statues of Santa Claus, Jesus and the Virgin Mary. Local people joined in the fun and excitement in residential areas and entertainment venues across the City.
Many people dressed as Santa Claus from gift shops, bakeries and restaurants and added to the festivities on the streets by giving small and dainty presents to passerby's.
In addition, young people dressed as Santa Claus of charitable organizations also offered gifts to disadvantaged children, disabled elderly and the poor.
Many cultural activities including Violet Christmas on Anh Sao (Starlight) Bridge in District 7, music performances at Ben Thanh Theater, Youth Cultural House, Dam Sen Park attracted a large number of people.
Cold weather in Hanoi and Da Lat couldn't prevent people from flocking to the central areas to take part in the spirit and atmosphere of the festive season.
Disadvantaged children in the capital enjoyed a warm Christmas at Sofitel Legend Metropole Hanoi and Hanoi Central Children Hospital.
A giant lantern measuring more than 13 meters in height and 10.5 meters in width at the Notre Dame Cathedral in Thanh Hoa Province also drew thousands of parishioners and local people.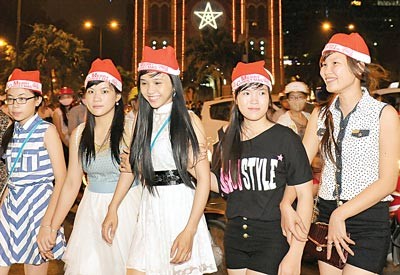 Young people enjoys Christmas in Ho Chi Minh City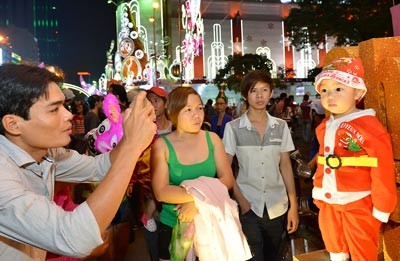 Baby is dressed up in Santa outfit on street.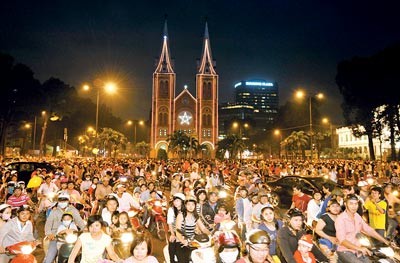 People tried to reach the Notre Dam Cathedral.