On behalf of the Party and State, Prime Minister Nguyen Tan Dung expressed his deep gratitude on Thursday for war invalids, martyrs and families of fallen soldiers who paid great service to the country.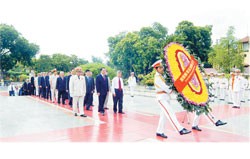 Top leaders of the Party and State take part in the 60th anniversary of War Invalids and Martyrs Day held in Ha Noi on July 26 

The Prime Minister made the statement during the 60th anniversary of War Invalids and Martyrs Day (July 27) in Ha Noi.

He said, the Party, State and people would always remember the great contributions made by wounded and fallen soldiers and their families.

He urged the whole nation to provide better healthcare services for veterans and their families and to focus on vocational training and employment for their children whilst stepping up efforts to find the remains of many unknown soldiers.

Annually, the government spends over VND11 trillion (around US$688 million) on preferential subsidies for more than 8.2 million people who rendered services to the country during the war.

Statistics have shown that through the subsidies over 85 percent of beneficiary families enjoy the same or higher standards of living than the average citizen.

For the occasion, President Nguyen Minh Triet sent a letter to each war invalid, veteran and martyr family across the nation.