Vietnam's Party leader Nguyen Phu Trong paid a Lunar New Year (Tet) visit to the central province of Quang Ngai on Jan. 14-15, one week before the year's biggest festival.
The Party General Secretary met with provincial leaders Sunday. He praised Quang Ngai's authorities and people for their achievements in socio-economic development, ensuring defence and security and building the Party and the political system.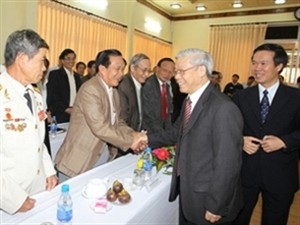 Party General Secretary Nguyen Phu Trong (2nd, R) pays a Tet visit to Quang Ngai Province (Photo: VNA)
He said he was happy to visit the hometown of late Prime Minister Pham Van Dong and many other Party, State leaders as well as of many patriots.
Lat year, Quang Ngai recorded encouraging successes, with a per-capita GDP exceeding US$1,400 per year and budget collection reaching over VND17.5 trillion.
The Party leader on the same day visited and burned incense at the Memorial Site of the late Prime Minister Pham Van Dong in Mo Duc District.
Earlier, the Party leader paid a Tet visit to the authorities and people of Hanh Thien Commune, which leads Nghia Hanh district in building new styled rural areas.
On Jan. 15, Mr. Le Hong Anh, Politburo member and a standing member of the Party Secretariat, paid a Tet visit to the central province of Thua Thien-Hue.
He asked provincial authorities to make sure that the poor, those affected by natural calamities and all people in the province to have a good time during the Lunar New Year Festival.
On the same day, Deputy Prime Minister Nguyen Xuan Phuc paid a Tet visit to the central highland province of Kon Tum.
Among those he came to visit were 100-year-old woman Tran Thi Tham and poor residents.